Daddy Blogger was doing the Daddy thing last week for his amazing daughter's birthday. Since he was once again invited to attend this amazing Rodeo event, I will share my adventures on behalf of him with all of you- enjoy!
—–
A Great Experience at the Cloverdale Rodeo.
There is so much to do in Vancouver and all over BC, and the experience of being at the Cloverdale Rodeo this past weekend was right at the top of the list when it comes to having fun and enjoying something new! If you have never been to a Rodeo, this adventure comes highly recommended. Not only did I have the awesome experience of capturing some great images up close and personal, but I also had the privilege of meeting some of the competitors and learning about their passion for the sport.
20 years ago, I had my one and only experience at a Rodeo when my friends and I met at the Calgary Stampede. Because of this recent experience in Cloverdale, I was reminded that I still hold the record for falling off the mechanical bull in less than 2 seconds. It was actually 1. 7 seconds, but I rounded off.
I remember thinking then and there that I would never try this again! And here I was again 20 years later, but this time at the awesome Cloverdale Rodeo riding the very dangerous Bucking Rocking Horse. This time I stayed on for 3 minutes. This is a picture of me being extremely brave – very scary after the experience in Calgary, but a very proud moment indeed.
Life is and always should be about Having Fun, Making Memories and Living Life to the Fullest, and that was exactly the experience I had with friends Justin and Jorge at the Cloverdale Rodeo. I am already excited about next year and bringing many good ole country lovin folks with me.
In addition to all the standard Midway games and the awesome rides, the Rodeo event had something fun for everyone. 
Some of the many highlights included kissing a few baby goats in the Barn, the West Coast Art Show, the Pig Races, the non-stop country music entertainment, the world class skateboarders, the awesome Lumberjacks and my all time favourite – watching little kids get thrown off Sheep, and their parents yelling, "you can do this kid, make your momma proud!" This shot was captured by my bro Justin Ruscheinski who also nailed some epic shots as well. There is always so much to do at this awesome weekend event and I highly recommend you put this in your calendars right now and plan to have some more fun!
And OMG, did I mention the absolutely cute "GOATS"
Again, definitely a fun-filled and exciting weekend for all at the 2015 Cloverdale Rodeo and Country Fair.
The Cloverdale Rodeo and Exhibition Association is the non-profit organization that manages the world famous Cloverdale Rodeo and Country Fair, held every year on the May long weekend at the Cloverdale Fairgrounds in Surrey, British Columbia. To learn more about their history,  CLICK HERE  to visit their website. They have just celebrated their 169th Rodeo and 127th Country Fair and are now getting all ramped up for next years 70th. I know I will be first out of the gate (not on a BULL tho) to attend this one!
And the food; Wow, all I can say about the food is, "Holy Rib-Fest Batman."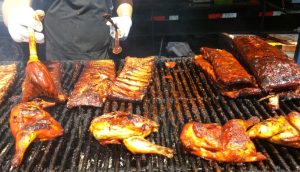 Before taking some shots with my friends in the inner circle of the stadium, I spent a good hour sucking back some of the most awesome RIBS I've ever eatin in my life – I do feel bad that I didn't share with my friends, and I'm almost over it, but I'm pretty sure it was because I didn't want them to have sticky hands while taking pictures!
The Lumberjack show was definitely a must see and another one of the great highlights for me. From the well planned out rivalry among two teams in such a creative and humorous way, there was axe throwing, saw cutting contests, carving displays, pole climbing races and my favourite, Log Rolling.
The guys and gals did an amazing job and had us all laughing for the entire show.
In addition to all the standard Midway games and the awesome rides, plus everything listed above and so much more, the Rodeo had something unique and special for everyone. But for the majority of the attendees, the real fun and excitement began with the non-stop fire from the Barrel Racing, and Bareback, Bull and Saddle Bronc Riding competitions. Here are a few pics to wet your appetite for next year. An exciting Final competition day that included chills and spills and so many great pic. oppotunities. To learn more about the Rodeo and see what kinds of year round events are happening,  CLICK HERE.
—–
Passionate about helping others discover a purposeful life filled with Grateful Happiness, Robin encourages others to Make Memories and Live Life to the Fullest! He is passionate about Spreading Joy, Loving Life, Making a Difference and Changing the World! You can learn more about Robin by clicking here.